Radio Sindhi Player for Windows 10
Start listening to Radio Sindhi from your desktop itself without visiting the website. It is so simple & fast. Enjoy all the 6 stations 24/7 from your Windows 10 Desktop computer or Windows 10 Mobile or Tablet. Radio Sindhi Player app works even from XBox One console.
App Developed by Amit K Khanchandani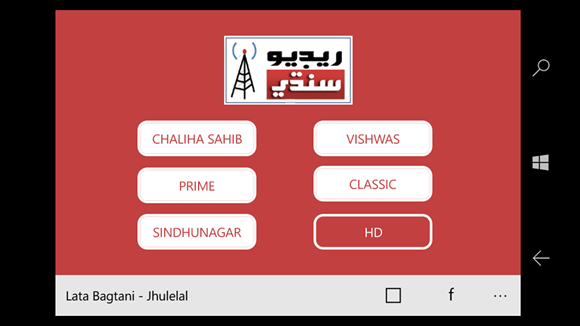 Radio Sindhi Player for Windows 7 or 8, Vista, XP (Old versions)

Radio Sindhi Player 2.0 for Windows OS
If you are finding it difficult to reach to Radio Sindhi Website and play radio.
If you don't have correct flash plugin installed on your machine.
You like to play Radio Sindhi but somehow you forget to reach out.
You want one concise simple interface to easily switch between 6 Radio Sindhi Stations.
You can have your very personal radio, all for free of cost. Very useful tool for old age or non-tech people who find it difficult to visit site and play radio.
Features:
Starts Radio Sindhi directly from Windows Operating System without visiting website
Get Ticker updates and useful  links in one interface
Play/Stop Radio Control volume
Remains on Taskbar when minimized
Supported Operating Systems:
Windows XP
Windows Vista
Windows 7
Download:
Download Radio Sindhi Player for Windows from here ( 7 MB )
Installation Steps:
Extract the zip file
Run the setup.exe
Proceed the steps by pressing Next
Radio Sindhi link with icon will appear in your start menu once the installation is completed.
How to use Radio Sindhi 2.0 Player for windows
Once installed it stays on your taskbar on start of windows. if clicked shows the Radio Tool. You can choose from 6 stations to play. If you click on close, it even removes from Taskbar. If you minimize it hides to taskbar. You can bring it back with left click. On right click you can directly play or stop last selected station.
If you don't want Radio Sindhi Player to start on windows startup, you can go to program –> Startup –> right click on Radio Sindhi v2.0 and delete it. This will stop loading the Radio Sindhi v2.0 on Windows Startup. You can continue to use this from desktop icon.
if you wish to uninstall this tool, you can go to control panel –> uninstall programs — Radio Sindhi v2.0. This will completely remove the Radio Sindhi v2.0 from your system.
Technical Details :
Developed in Microsoft Visual Studio 2010 Express Edition – Visual C#
Developer: Sameer Jambhulkar
Evaluation help :
Thanks to our dear friends who helped us evaluate Radio Sindhi 2.0 for Windows.
Girish Sadhwani
Sanjay Keswani
Pooja Raj Juriani
Amit K Khanchandani
Rajeshkumar Dhanrajmal Valechha
Rakesh Keswani
Sangeeta Jaisingh Bapuli
Saral Roshan
For Support and help please visit :