Dear Radio Sindhi Listener,
This is Radio Sindhi being broadcast from Mumbai, India. This is first Sindhi Radio Station available Internationally.
Radio Sindhi is an initiative and platform to re-bind our dispersed Sindhi Community which is scattered across the world. With this initiative we would like to make our community aware about our Sindhi Music, Movies, Drama, Culture and Language. Radio Sindhi is an effort to erase the geographical distances that exists between our Creative Artists and Audience.
We evaluated various possibilities of setting up Commercial FM tower, but considering our Sindhi Community is not densely located in one particular region, we decided to take Internet approach. On 10-Jan-2011 the idea of Radio Sindhi materialized. Since then we have seen tremendous growth in the number of listeners and supporters.
People might get this mis-conception, while the world is moving to High Definition, 3D, On Demand and interactive content, we are going back to 100 year old technique of communication where one speaks and millions listen. Though our radio is one way broadcast, but we want our dear listeners to use this site and internet to have bi-directional communication.
We look forward for your continued support and suggestions.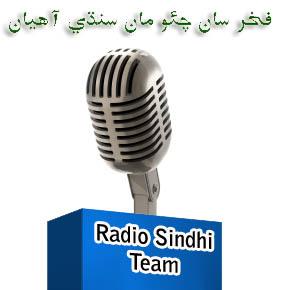 Note: Radio Sindhi initiative of Sindhyat Foundation, Mumbai.
Radio Sindhi Presentation at All India Sindhi Academic Conference