Radio Sindhi Stream is supported on Plenty of Tools, Operating Systems and Devices.
All Internet browsers with Flash Support
Winamp
Windows Media Player
VLC Player
Quick Time Player
Apple iTunes
Virtual Player on Nokia Symbian 6 OS
Shoutcast Player on iPhone, iPod and iPhone
Winamp Player for Android
HTC Windows Mobiles
Rhythmbox Music Player on Ubuntu Linux
You can buy WiFi Radio for around 130$  (No need to boot computer)
If you are a geek you can build your own WiFi radio for less than 50$
http://tinkernut.com/archives/2387
Start Radio from Internet Browser
Visit to RadioSindhi.com website.
Click on Play button on right top and Radio Sindhi Broadcast Starts.

RhythmBox Music Player on Ubuntu Linux
Start Rhythmbox
Just go to Radio and click New Internet Radio Station and enter : http://199.16.186.36:8701
Click the Play Button, you are connected to Radio Sindhi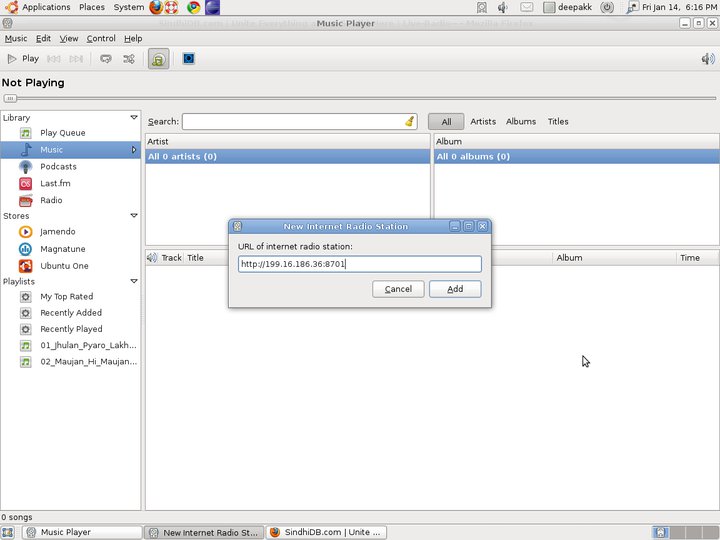 You can Buy WiFI radio for 130 $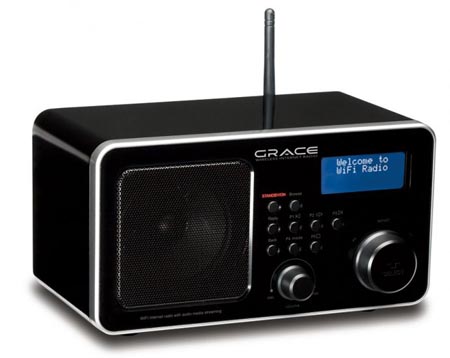 You can buy the Grace radio for less than 130$. Buy from Amazon
Enter  streaming url in Radio http://199.16.186.36:8701
You can start listening to Radio Sindhi Station without starting computer
(Very good option for elders in the family who find it difficult to operate computer)